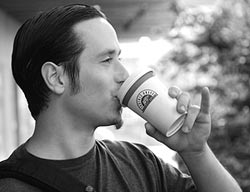 Mmmmmm... Robot Juice!
Hello World
Sometimes, I find myself feeling spread thin across the internet. There are the websites I maintain and the blogs that I publish content to. There are also the unintelligible comments I tend to leave scattered around.
Consider this an attempt to gather all of the pieces. Perhaps it will help to paint a better picture of who I am. My resume is available if you are interested. However, I can guarantee that it will already be out of date by the time you read it. Contact me directly for current information.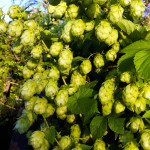 This is a continuation of the hop breeding experiments that I first wrote about in 2013. If you are wondering why someone would bother growing hops from seed - go check out that post. Hop pollen Last year, I was fortunate to start a few plants from native neomexicanus seed obtained from plants growing wild in Wyoming and Colorado. These plants are doing well, but as first-year plants, did not produce pollen/seeds of their own. Instead, I was able to obtain pollen from a female hop plant. Yes - a female plant! Under stress, many hop plants will throw male flowers. This "gender swap" is a survival tactic for dioecious plants in times of drought or other environmental problems. It can...
Posted on 2014-02-11 | 6 comment(s)
Speaker: Lynne d Johnson Augmented reality (AR) has slowly proven its merit on smartphones, with apps enabling people to layer information and gr...
Speaker: Mara Zepeda Facebook, LinkedIn, Yelp: these social media platforms and many others put a user's persona at the center of, or on equal fo...
Speaker: D. Denenge Akpem What is Afro-Futurism? It's a creative theory, rooted in history and African cosmologies. Afro-Futurism uses pieces o...
Speaker: Ronnie Duke In the good 'ol days, as a front end developer, we were handed a design and we would build our CSS layout and structure fr...
Speaker: Jason Lengstorf A challenge that faces modern front-end designers often is the balancing act between semantic code and code that does al...
There are total of 278 pages.
Unlike tomatoes, peppers and other crops, it can be really difficult to tell if they are ready to pick. Commercial growers often target a percenta...
Recipe Specifics Style: 26A Metheglin (spiced mead) Batch Size (Gal): 6.00 (for 5 bottled) Anticipated OG: 1.050 Anticipated ABV: 5.5% Ant...
Running low on stout ... again. This recipe is based on the 16-ton stout, but scaled back for simplicity. There will only be 3 grain sources: barely,...
Used the exact same recipe as last time... Recipe Specifics Style: 6-A Cream Ale Batch Size (Gal): 12.00 (for 10 bottled) Anticipated OG: 1.0...
Last year, I helped my friends build a bee hive for there yard. However, when spring came, they missed the window to purchase a nuc/package. Instead,...
There are total of 180 pages.