Thursday, July 10th, 2008
Matt Mullenweg of wordpress fame just announced:
"We're doing an iPhone-native WordPress client, check out the screencast here. It will work for both .com and .org, be available FREE from the App Store, and best of all it's going to be completely Open Source, which as far as I know no current apps in the store are."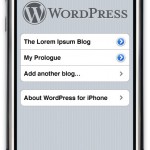 For me this is the "killer app" that I have been waiting for. Until now – you had to edit your blog through the safari browser. It worked, but it was not easy. I will post a review as soon as it becomes available in the app store.