Saturday, February 10th, 2007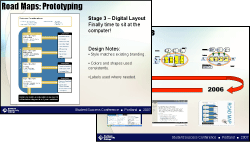 The Student Success and Retention Conference was held February 8-9, 2007 at Portland State University's University Place, 310 SW Lincoln Street Portland, Oregon. The SSR Conference was sponsored by the Joint Boards Articulation Commission, Oregon Department of Community Colleges and Workforce Development, the Oregon University System, and Oregon's community colleges.Together, Andrew Roessler and I were invited to present:
Title: Meeting the Needs of Community College Students: Developing Sustainable Web-based Advising Tools.
Session description (cannot exceed one double-spaced page)
Web sites are the first connection many potential students make with Community Colleges. To enroll in an educational pathway potential students need web-based advising tools that provide accurate and helpful information. The web pages of community college academic departments are often a repository for college catalogue pages, providing only the most basic program information, which can undermine the opportunity to attract students to their programs via the web.
As web development tools have evolved it has become easier than ever to create and sustain a good web-site. This session outlines the process of redesigning the PCC/MHCC Career Pathways Training Program web site. The theme of the session is the importance of designing community college web sites as web-based advising tools rather than web sites that are simply repositories for basic information. The process and timeline of the web site redesign will be outlined. An explanation of the content development process will be provided and an interactive "road map" linking academic programs to the labor market is presented as an example web-based advising tool.
Top learning objectives for session participants: Describe the redesign of the PCC/MHCC Career Pathways web site and offer it as an example of a collaborative web development process that represents short-term professional/technical educational programs.
Present the development of web content as an opportunity to evaluate how we serve students.
Present the development of web content as an opportunity to evaluate how we serve students.
Demonstrate interactive "road maps" that tie educational pathways to labor market information
Each participant will receive a packet that includes examples from www.pcc.edu/cp and a copy of the project time line
The session centered around the career road maps that had been developed over the past year. These visual maps show prospective students where there education can take them.