Saturday, December 22nd, 2007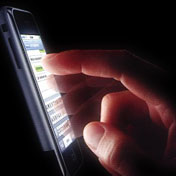 Merry Channuka – Sam got me an iPhone!
This is the first of hopfully many entries from the new device. So far I am finding the on screen keyboard just a little hard to use, but not much. It is about the same size as the qwerty on my zuarus, but the lack of tactile feedback is slowing me down a bit. With time I am sure that I will adapt. Also, in safari, the wysiwyg interface on this blog was giving me a bit of trouble. However, in code mode – it works great.
And despite what I have heard, the wireless edge network is more then adequate for browsing, maps and youTube.
Flying cars be damned. THIS is the technology of the 21st century!