Tuesday, January 1st, 2008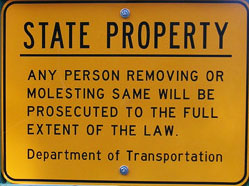 While hiking the Pacific Crest Trail in 2005, we came across a strange road sign. It was posted on a gate which was blocking the entrance to a small back road. The sign read:
"STATE PROPERTY – ANY PERSON REMOVING OR MOLESTING SAME WILL BE PROSECUTED"
Today, I ended up the California Department of Transportation website. On the California (CA) Coded Sign Specifications page the sign is listed exactly as I remember.
I still have no idea what it means… Anyone have a guess?