Wednesday, March 26th, 2008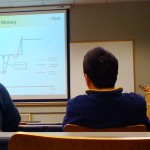 Mike Culver from Amazon web services came to speak to the PDXRIA group. In his own words:
"I'm a Web services evangelist with Amazon Web Services. My day job–and my night and weekend passion–is working with developers to talk about life in a post Web 2.0 world"
Scale as fast as you can:
He starts off with some charts showing possible growth problems:
What do you do when a huge jump -Flickr
What about drop – Facebook
What about annual/one time spikes – Australian Open
Don't do the muck
Why maintain the servers? Everything fails! Web services are all based on protocol requests (XML). XML turned 10 last month!
Amazon s3 simple service storage
Pay as you go. Up Down are different fees.14billion objects(files) stored thus year. Can use domain name and set up dns to pull from s3-great for media serving… No fliesysystem-use buckets. Acts like raid. Backup redundancy.
Ec2 elastic compute cloud
Linux machines. Full admin. Not local – no different. Also no handholding… 10cents an hour. Don't need to add servers – just in time scaling. Exaples include:
ISPs
Redhat runs supported servers
NY Times uses map reduce algorithm to process all old articles (total cost 480dollars).
SAS amazon simple queue
Put-Pull messaging. Stuff In stuff out. Messages not deleted until explicitly deleted. Safer no exception code needs. Amazon store uses it for crdit card transaction, they don't make you wait. Expect that it went through and sent you message later if if didnt. "Everything fails" He continues to stress the point…
Simple db
DB as web service. Continues to scale (no limit or slowdown). Works different then SQL. Very simple put get calls. Tries to … show an example where he uploaded all zipcodes. It doesn't quite work.
Demo
Looks like CPI actualy is using webservices. On a side note, vista is really ugly. The blur under the chrome – blah.