Wednesday, October 8th, 2008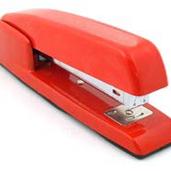 Currently siting in the Springfield airport, flight is delayed already, but still should leave in time. Randall is on the same flight. And… Traci just showed up! Hurray!
The last few days have been really crazy. Unfortunately,  managing the recorders took a lot of time so I missed several of the sessions and most of the meals. The ones that I got to were really good and Kyle Ford's keynote was inspiring.
The discovery center was also very cool. Just look at the smile on my face.
Oh, and I won "best of" for my track! Which was great, because I really wanted that red stapler. It was also fun to do the presentation twice more. There were some really good questions the second and third time around.
Update:
Back at home now. We made our connecting flight, but just barely.  Turns out that both Randall and Traci ended up stuck in Denver for the night…