Monday, October 6th, 2008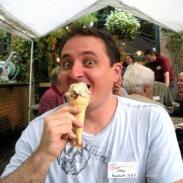 Or, What Happens When Your User-Agent Isn't A Browser?
Jason Woodward | Assistant Director of IT, Administrative Computing, Cornell University
Uses wireshark to show what headers look like.
What is REST?
Representational State Transfer
Actions are performed independently of other actions.
Do something to a resource and tell me if it worked.
Demonstrates with a homemade restful program.

Sends info – just says 200OK (no extra data needed)
Gets info – it comes back. How it is stored is irrelevant.
The presentation is good, but way more technical then I ever could have expected. This is defanatly the most TPR session that I have been to in the TPR track.