Wednesday, November 12th, 2008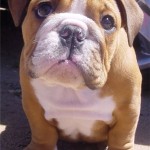 The spammers must be getting desperate today.
First there was an influx of comment spam to my blog. Each comment consisted of a random set of letters and numbers like: "kas8j398sdnsd9fDF7". Akismet blocked many of them, but several dozen got through.
Then the webteam email at work received several email messages like this. Notice that there is no real ad, or even a link – just a spoofed email address (which I won't post here for obvious reasons).
Hi,

My mother in law who I was really close to passed away unexpectedly. As sad as it was she left behind a litter of adorable bulldog puppies and parents.

These dogs are well trained, playful with kids and other home pets and they come with complete shots and worming.

Puppies are very playful and they do the funniest things and you just can't get enough of their playful antics.

Please contact me only if you are interested in providing a loving and caring home for these pets.

Have a nice day.

Lauren.
Perhaps it has to do with this slashdot article.