Monday, June 22nd, 2009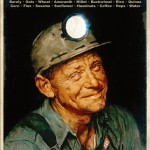 After the success of the last stout, I decided to brew up enough to keg for my upcoming nuptials. I even added a few more adjuncts – bringing the total amount of "grains" to lucky number 13. The brew includes barely, wheat, oats, amaranth, quinoa, millet, buckwheat, rice, corn, flax, sesame, sunflower and hazelnuts. I also added a pound of Kiln Coffee Malt, which drew my attention at Stienbarts.
Malted Grains:
For 10 gallons.
15 lb – 2-row
1 lb – Barely, Roasted
1 lb – Chocolate Malt
1 lb – Caramel/Crystal Malt (80L)
1 lb – Kiln Coffee Malt (Yum!)

Unmalted "Grains"
Yes I know some of these are technically seeds.
2 lb – Oats
1 lb – Wheat
1 lb – Amaranth
1 lb – Millet
1 lb – Buckwheat
1 lb – Rice (Sushi Grade)
0.5 lb – Quinoa (it's expensive!)
0.5 lb – Corn (popped!)
0.5 lb – Flax Seed
2 cups – Sesame Seeds
2 cups -Sunflower Seed
2 cups – Hazelnuts
Hops
1 oz Chinook for 50 min
1 oz Chinook for 15 min
Notes:
It was recommended that I add the adjunct grains to the strike water while heating it. The extra cooking time would help to free some of the starches for better conversion. So, I added the heaping bowl to the 4 gallons – unfortunately, the whole thing turned into a giant mess of portage (though, it smelled really good).
I dumped this mess on top of the cracked grain, heated 4 more gallons to 170 and mixed everything together. After an hour, I released the vorlauf and out came a thick, creamy concoction as black as midnight. I swear to you that it tasted just like chocolate sauce!
Unfortunately, the stream quickly minimized to a trickle. The adjuncts had completely gummed it up. I tried clearing it and even went so far at to separated it into another lauter tun, but in the end just had to wait several hours to sparge the required 11 gallons…
After that, everything else went very well. OG: 1.060
Note for next time: ADD RICE HULLS!