Thursday, October 8th, 2009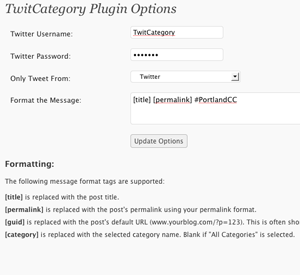 Announces new posts (from a selected category) on twitter.
Download
Download the file from wordpress.org/extend/plugins/twitcategory/
Updated 2010-03-02
The plugin has been updated based on requests from the comments below. It now supports [post] and URL shortening from Tinyurl, IsGd and Bitly!
How to install:
Download and unzip the folder twitcategory.
Upload twitcategory to the /wp-content/plugins directory.
Activate the plugin through the Plugins menu in WordPress Admin (you may need to be using a wordpress administrator)
Please note that TwitCategory will create a table in your wordpress database called 'twitcategory'. It will clobber any previous table with that name.
Fill in your twitter account information in the twitcategory configuration menu found in the Manage menu in WordPress Admin.
Where credit is due:
This plugin is a updated/modified version of Twitpress by Thomas Purnell  (email : tom@thomaspurnell.com)
Twitpress v0.3.2 – http://wordpress.org/extend/plugins/twitpress/
We should all thank Thomas fro creating the great plugin and releasing it under a GPLlicense!