Tuesday, July 20th, 2021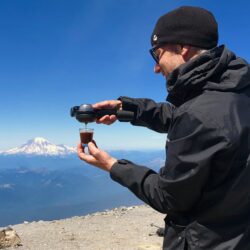 I try to climb Mt. Adams each year. It is a beautiful mountain and the climbing route offers majestic views and a reasonable challenge without being too technical.
Last year, I decided to try a single day, car-to-car climb. This made for a very long trek: 14 miles, 7000′ of elevation gain and loss… not to mention the long drive home. I managed to make fairly good time and was back to the car in about 9 hours.
For 2021, I convinced a friend to come along for the challenge.
The climb
Leaving Portland, I arrived at Joe's around 11:30 and we were back on the road by midnight. From his place in Estacada, it's nearly a 3 hour drive to the trailhead – the last hour of which, is on very bumpy gravel roads. This part is fun, but slow. Perhaps even a little slower than normal, as we had to continually stop for the deer that were grazing along the road.
At 3am, we parked and left the car behind. The night was cool, but not cold, and we made great time over the first few miles. This time of year, however, the sun rises early. By the time we reached the steeper ridge line, the stars were veiled and the sky was turning from black to a deep blue.

By dawn, we had crossed onto the lower reaches of snow. At first, the snow felt firm… a promising sign for an easy ascent up the glacier. Unfortunately, our luck wouldn't hold. After grabbing some water at the top of the lunch counter (9000′), we started the steep climb. The conditions of the upper mountain immediately became apparent.
Temps from the recent PNW heat dome event had taken its toll on the glacier. The snow softened up quickly. Even with full crampons, the slush was hard to bite into. Many of the other climbers on the mountain were sporting small micro-spikes and getting no traction at all. A good number of these people turned back before even hitting the false summit. At 11,000′ the glacier ended prematurely and we were forced onto the rock.

After cresting pikers, We were treated to high winds and a clear view of the mostly snow-free true summit. Most years, there is at least partial snow on the final ascent. This year was all scree and required maximum effort.
All that said, the summit offered the same amazing views that I have come to expect. The old mining hut was fully thawed out and offered a good block from the constant wind. With these beautiful conditions and no crowd at the top, we spent an hour enjoying it all. To top it off, Joe brewed some fantastic espresso that really put some pep in us for the long descent back to the car.
Photos