Tuesday, November 1st, 2005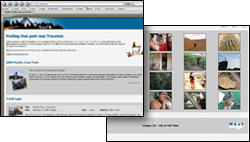 Finding that path less traveled. One blustery afternoon while on a camping trip in the Washington backcountry, I had the idea for www.TrailB.com, a hiker community site. I envisioned a place where I could photo blog all of my adventures for others to see and also search for new adventures by reading the logs of other outdoor travelers. During the summer of 2005, I thru-hiked the 2600 mile Pacific Crest Trail, uploading my daily journals to the site as I went along.
I am currently working to update the site. Check out the in-progress development version.