Monday, August 20th, 2007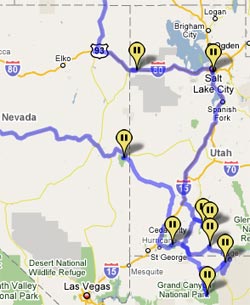 We just spent the last two weeks down in the southwest. I wrote some trail logs of our adventures, but it may take some time to post those on the web. For now, I just wanted to get a quick synopsis and some photos up.
I flew down to meet Sam in Reno, NV. After a night in the crazy neon of the downtown casinos, we took off and headed west along highway 50. Later, we would learn that this road is nicknamed "the loneliest road in America". Between the small towns, there are just hundreds of miles of desert and rolling mountains.
Our first stop was the Great Basin national park on the other side of the state.
From there we headed down to Zion and spend several days slot canyoneering. Afterward, continued down toward the Grand Staircase, Glen Canyon, Lees Ferry and then the Grand Canyon.
We then turned north and went up to Bryce Canyon and the Kodachrome state park.
On the way back, we passed the Bonneville Salt Flats and the 1000-spring senic byway.
Whew – I get exhausted just thinking about how much we packed in.