Sunday, September 9th, 2007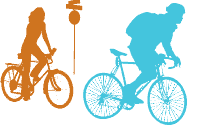 I was not sure whether to post this under work, or play.
Portland Community College is currently participating in the Bicycle Transportation Alliance's Bike Commute Challenge.
When I started working here, I planned to ride everyday. It is only 8miles from my home, but it is almost all uphill. Over the trip, there is a cumulative gain of approximately 1000ft. Because of this, I often hitch a ride in Sam's truck and then cruise home at the end of the day. Even though it is downhill, the rush hour traffic turns it into quite a workout.
Lets see how well I keep up to the challenge.