Sunday, November 18th, 2007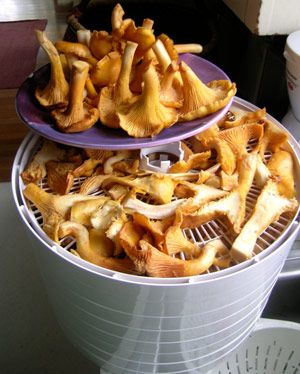 Last weekend, I went with several friends (Sam, Poarch and the disgruntaled Mr. Fish) up to Larch Mountain. Less then 45 minutes outside of Portland, this lush area is just inside of the Mt. Hood national forest. It also happens to be some of the highest elevation around. In winter, the snow falls here first, which makes it a prime place to go snowshoeing.
However, the weather was still good and we weren't looking for snow – we were looking for mushrooms!
We started at the top and worked our way out to the viewpoint. Seeing no sign of fungi, we drove back down the road. As we dropped in elevation, the temperature started to increase. Picking a random spot we parked on the shoulder and tromped off into the woods uphill. We quickly found lots of mushrooms… just nothing edible. Every few minutes, someone would yell to me "Gabe, is this one?".
After an hour we had found very little. The few specimens that we did find seemed to be over-ripe, so we decided to head further down the road.Parking all the way back at the gate, we took off again. This time making our way downhill past an old shooting range. Here the forest was thick and greeh. Within minutes we stared finding bunches of perfect chanterelles. They were a little hard to spot due to the abundance of orange leaves on the ground, but it really did not take lont to fill our entire basket.

In fact… the catch was so good that I decided to go back again. This weekend I took my folks. We had a good time, despite it being one of the rainiest days in memory. Also, we got a little lost. Yet, in the end we made it back to the car with another overflowing basket of Golden Chanterelles.