Friday, February 15th, 2008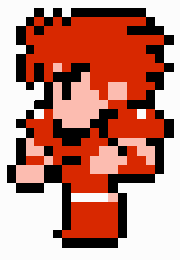 Our good friend Fish (aka the "disgruntaled Mr Fish") is moving to Florida. His girl Linda already made the trip down there and soon enough he will be joining her to live in "America's Wang". Before he goes, we have the pleasure of a house guest for a few weeks.
Now he really is a great guy to have as a roomie. But, last week he seemed a bit down. I think he misses Linda. So we pulled out the old Nintendo and he immediately gravitated toward Final Fantasy.
Final Fantasy number 1 – that is.
There have been over a dozen of these games, but this is the original. The highlight of 1990, I literally hadn't played the game since I was 10. It took a minute to blow the dust out of the cartridge. Afterwards it started right up.
It didn't take long for Fish to become engrossed in the game play. After watching for an hour, the same can be said for Sam and I. Despite the 8-bit graphics, the game really delivers. It has a fun story, a massive world and an entrancing mono sound track.
The whole thing brings back fond memories of growing up part of the Nintendo generation.