Monday, February 28th, 2011
Last week, we brewed up the Cream Ale and used a some yeast culture (WLP 001)Â  that had been sitting in my fridge for over a year. Regardless of the age, fermentation started out strong and smelled clean.
So to reward these awesome yeasties, I decided to dump on another batch of beer once the Cream Ale was racked to secondary.
Red Recipe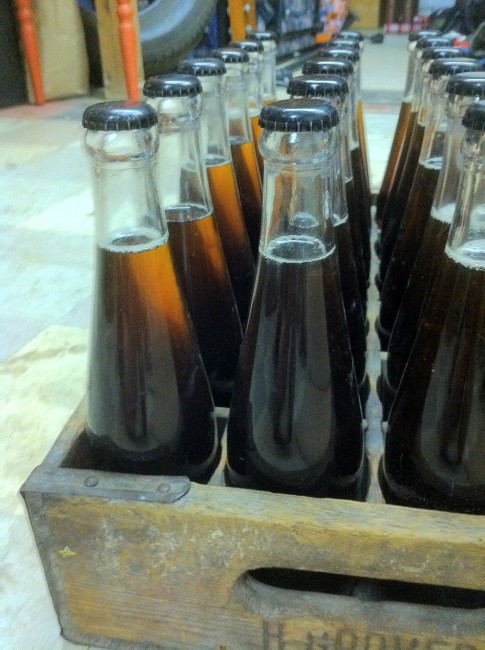 This is my first red, so I looked around and found some good examples. In the end, I decided to use a recipe modified from Jamil Zainasheff's Evil Twin Red.
This is for a full 12gallon batch:
24 lb – pale 2 row
3 lb – Caramel 80
2 lb – Munic
1 lb – Victory
0.5 lb – Light Chocolate
3 lb – Malted Oats
2 oz – Millennium (pellets) @ 45 min
1 oz – Centennial @ 20 min
2 oz – Centennial @ 10 min
1 oz – Centennial @ 0 min
WLP001 California Ale Yeast
Mashed at 154° F for 60+ minutes. Gather a pre-boil volume  of "only" 13.7 gallons. Boil for 60 minutes.
Should give us drinkable 5%ABV with 60ish IBUs.
May need to be dry hopped.
^Evil Twin (ish) Red^^101^80^12^60^10^4^50^100^8.8^0.3^0^0^0^0^71^71^24^35^35^3^63^63^2^91^90^1^0^0^0^40^40^0.5^67^67^3^0^0^0^0^0^47^2^45^0^1^6^1^20^1^2^6^2^10^1^2^6^1^0^1^2^0^0^0^1^2^0^0^0^1^2^2^47^154^0.8^^^^More reasonable - needs some dry hop and oak^^^^^^^^^^^^^^^^^^^^14^10^10^10^0^0^0.2^