Wednesday, June 1st, 2011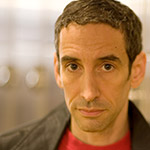 Program or Be Programmed:Ten Commands for a Digital Age
Thu, May 26 4:15 pm – 5:15 pm
Douglas Rushkoff
Psychedelic people are required for a digital reality.
I was laughed out of rooms when I told people they would be using email.
Early Internet culture was reality hacking.
The new resistance seems to be that programming is hard.
Resistance to dream.
Resistance to work hard.
In 1994, he thought that digital natives (kids and stoners) would be more able to decipher the systems – not accepting the net at face value.
The kid thinks that he is the customer of Facebook… The kid is the product. They don't even know what the tool is "for".
Don't just learn how to read. Learn how to write.
Tech bias:
Asynchronous. Our synapses will be fried.
the bias for things that are far away. Not for living where you are.
The bias of choice. Radio button culture. Rules of the game set up in advance.
The bias of complexity, or over simplification.
the bias of scale. How can it be everything to everyone.
biased against identity. Anonymity is power.
bias toward openness. share, don't steal. A social contract.
Bias toward purpose. Program or be programmed.
We are the last humans that were alive before the digital era. A very unique position to be in.