Wednesday, June 1st, 2011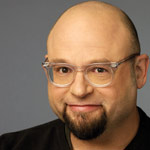 Time: Fri May 27, 9:00 am – 9:15 am
I sat down at the 9pm, 30 min, Experience Design session only to realize that the goloqi people were at the main stage in 15… So, I wandered over there to watch this.
Television is dead. Phil says no – I am not so convinced.
He just made a rapture joke to account for all the empty seats in here – nice!