Wednesday, June 1st, 2011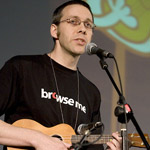 Daniel Davis – opera
Thu, May 26 10:45 am – 11:00 am
Transitioning pages to work well on a TV is a lot of work.
Why? The remote is a horrible input device. For: Text, navigation.
Reading text from across the room.
But, wait these are the same problems on mobile! Try simply updating your mobile site for the tv.
scale the page using CSS transforms?
or, just the text.
can't rely on CSS tv media type
use media queries. @media(max-width:600px)
for TV: width 1920 height 1080
Or 1280 and 720 then font 2.5em. This covers most TVs.