Wednesday, June 1st, 2011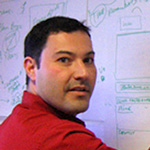 Time: Thu May 26, 11:00 am – 11:30 am
Mobile is like a cybernetic exoskeleton. Information army in the palm of your hand
Inputs
Keyboard is not the only input device. Be smart with your default/preset values.
Search
Keep old queries. Allow them to be interrupted and return later. Use auto suggest when typing is necessary.
Results
Zero results is not an error. Don't be afraid to say "I don't understand". Give a way out. Design for 0.
Refine
Parallel architecture – simple search, but allow them to refine at any point.
Drop down – amazon uses 56% of the screen for junk navigation. Get rid of what you don't need at the moment.