Friday, January 20th, 2012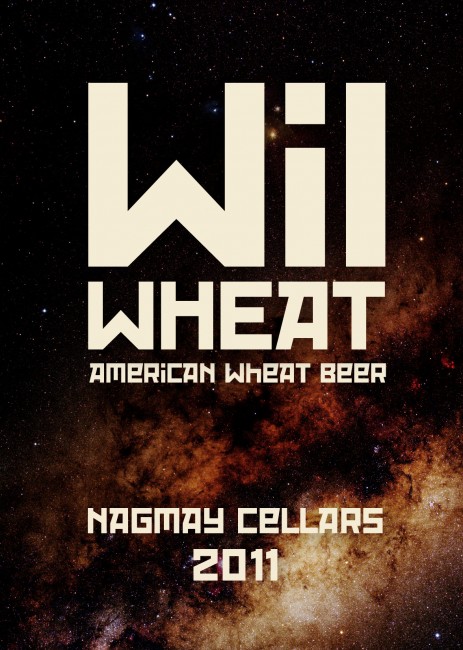 As a child of the 80's, I grew up watching Wil Wheaton on TV (Star Trek, Stand by Me). When I recently found out that he is also a home brewer – well, I knew that a beer needed to made in his honor.
Yesterday, I noticed that FH Steinbarts (my LHBS) is going to be hosting a wheat beer competition in May… an entry recipe immediately came to mind.
"Wil Wheat" is going to be a basic american wheat beer, but with a few twists:
Galaxy hops rather then a noble, or american variety
Triticale as an adjunct grain.
Rouge Pacman yeast for extra nerdiness.
Recipe Specifics
Style: 6-D American Wheat/Rye
Batch Size (Gal): 12.00 (for 10 bottled)
Anticipated OG: 1.049
Anticipated ABV: 5%
Anticipated SRM: 4 (very light)
Anticipated IBU: 27 ( Tinseth)
Brewhouse Efficiency:Â  80%
Wort Boil Time: 60Minutes
Grain/Extract/Sugar
A basic wheat recipe is just 2-row and white wheat. I plan to add a small amount of triticale to maximize head retention. Triticale is a wheat/rye hybrid – not to be confused with quadrotriticale. Here is an abstract of an article that describes the "use of unmalted triticale in brewing and its effect on wort and beer quality".
10 lbs Pale 2-row (US)
10 lb White Wheat
0.5 lb Unmalted Triticale
Hops
Galaxy is an high alpha Australian variety. It was accentually quite difficult to find a US supplier. The aroma profile is described a citrus/passion-fruit, which should work perfectly in this beer.
1 oz. Galaxy 13% @ 60 min
1 oz. Galaxy 13% @ 10 min
Water
Munic profile: per 5 gallons add
– 3.5g Chalk
Strike 30 quarts at 165°F
– Add water slowly and mix thoroughly, or the wheat will clump
– It's OK to bring up the temp slowly
Mash at 152°F (low is better then higher)
Boil for 60+ minutes.
Yeast
You would normally use a clean american ale yeast. Pacman seems to fit th bill, but I could not find many examples of it's use in a wheat beer.
Pacman
1 week @ 60F
1 week up to 70F
Brew Day Notes
Finally had a chance to brew this up on 3/27. Everything went smoothly.
I used quite a bit of rice hulls and added to the mash slowly: grain, water, grain… This worked very well. I hit the mash temp exactly and didn't have any problems with stuck mash.
The only issue was a lower OG then expected (1.046 vs 1.049). This calculated to 75% efficiency instead of the expected 80%. Afterwards, I realized that the problem was my crush. Unlike barley, the size of the wheat kernels varied drastically. This meant that a small percentage slipped through without being crushed. Next time, I either need a smaller grind, or just a bit more wheat.
However, this will produce an ABV around 4.5% – so, well within the appropriate range for an American Wheat.
Label
I used the same template as the other 22's – but added a real image this time. The photo is "A Wide Field Image of the Galactic Center" via Astronomy Picture of the Day.
Data
Gabriel Nagmay^Wil Wheat^^25^21^12^60^10^4^80^100^8.8^0.3^0.8^0.7^0.4^0^70^70^10^101^100^10^101^100^0.5^0^0^0^0^0^0^0^0^0^0^0^0^0^0^0^0^0^15^1^60^0^1^15^1^10^0^1^0^0^0^0^1^0^0^0^0^1^0^0^0^0^1^0^0^0^0^1^1^60^150^1.5^^^^^^^^^^^^^^^^^^^^^^^^13^13^0^0^0^0^0.2^