Sunday, February 19th, 2012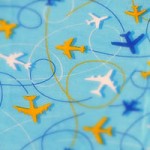 I was not expecting to brew this weekend…
Then Jamie started talking about the yeast he purchased to brew 24 gallons of "Snowfall Pale Ale" (his house beer). We quickly realized that he would need at least 1 Trillion yeast cells – he only had 2 vials of WLP005 (200 Billion total). He also wouldn't be ready to brew for a few weeks – which means the yeast would be less viable.
So, I offered to build up the yeast count for him :)
This recipe is called "Loop de Loop", a homage to the high alpha hops (Humulus lupulus) that will be used. It will have a big ABV and IBU like an Imperial IPA, but much more body. Imperial British?
Recipe Specifics
Style: 14-C Imperial IPA
Batch Size (Gal): 12.00 (for 10 bottled)
Anticipated OG: 1.070 (1.075 w/ sugar to secondary)
Anticipated ABV: 7.9%
Anticipated SRM: 8
Anticipated IBU: 109 (Rager)
Brewhouse Efficiency:Â  73%
Wort Boil Time: 60Minutes
Grain/Extract/Sugar

A normal DIPA recipe would be lot's of 2-row, a little crystal, and some cara-pils to maximize head retention. Unfortunatly, I didn't have any crystal or cara… Time to get innovative!
I decided to replace the cara with oats (both flaked and malted). This will add to head retention, but also body – which is off style. Oh, well ;)
As for the Crystal, I decided to stay up late and roast my own. Notes on home roasting can be found on my Glutard recipe.
25 lbs Pale 2-row (US)
1.5 lb Crystal 45? Home roasted!
1.5 lb Flaked oats
1.5 lb Malted oats (no husk)
1.5 lb Sugar to boil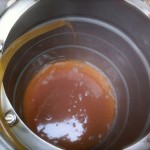 My efficiency for this batch was a bit low (see 'Brew Day Notes' below). So, I plan to a little more sugar after the primary ferment. This will also help the yeast clean up a bit more
Hops
This recipe is loosely based on Pliny the Elder. Starting with those numbers, I looked to see what was in my freezer.

2.0 oz. Newport 9.8% @ 60 min (pellet)
2.0Â oz. Newport 9.8% @ 45 min (pellet)
2.0Â oz. Horizon 12% @ 30 min (pellet)
3.0 oz. Cascade 6.5% @ 0 min (cone)
4.5 oz. Simco 12.3% @ 0 min (pellet)
Dry Hop 12 to 14 days total (4/27):

2.0 oz. Perle 7.5% (pellet)
1.7 oz. US Goldings 4.9% (pellet)
0.8 oz. Horizon 12% (pellet)
0.8 oz. Pacific Jade 14.6% (pellet)
0.7 oz. Vanguard 5%Â  (pellet)

Dry Hop 5 days total

1.0 oz. Perle 7.5% (pellet)
1.0 oz. US Goldings 4.9% (pellet)
1.0 oz. Pacific Jade 14.6% (pellet)
1.0 oz. Vanguard 5%Â  (pellet)
Water
Burton-on-Trent profile: per 5 gallons
— 3.5g Baking Soda
— 5g Chalk
— 8.5g Epsom salt
— 15g Gypsum
Strike 30 quarts at 170°F
Mash at 149°F
Boil for 60+ minutes.
Yeast
For a DIPA, you would normally use a clean american ale yeast. British ale yeast has a bit less attenuation.
WLP005 British Ale
1 week @ 65F
Rack onto first dry hops, add sugar
1 week @ 65F
Add second dry hop
5 days up to 75F
Brew Day Notes
I stayed up late the night before and roasted the Caramel malt. Judging by the final beer color, it may be darker then 45. I also set up the kettles and water additions.
6:10am – Started heating strike water.
7:00am – Cracked grain and added water. Unfortunatly, my mash tun is a bit small for this much grain. It started to overflow, so I pulled a gallon and boiled it down on the stove. This will undoubtedly add even more body/sweetness. It also means that I was well below my average 80% efficiency. No problem, I can add sugar directly to the ferment – which will also help dry it out a bit.
8:00am – Started sparging.
9:00am – Reached Boil. Started adding massive hops!
Data
Gabriel Nagmay^Loop de loop^2012-02-19^62^50^10^60^9^4^73^100^8.8^0.3^0^0^0.2^2^70^70^25^33^33^1.5^66^66^1.5^87^86^1.5^67^67^1.5^0^0^0^0^0^0^0^0^0^4^4^26^2^60^0^1^26^2^45^0^1^26^2^30^0^1^5^3^0^1^2^46^4.5^0^0^1^46^0^0^0^1^1^60^150^1^1.075^1.018^^^^^^^^^^^^^^^^^^^^^^9.8^9.8^12^6.5^12.2^8^0.2^