Tuesday, April 10th, 2012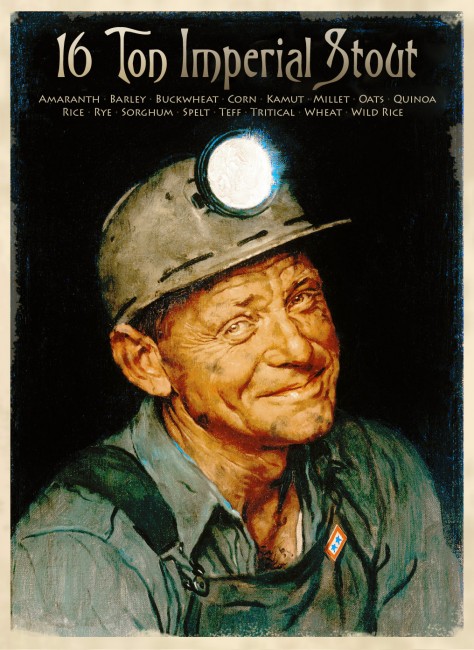 Pondering a super high gravity imperial based on the 16 ton stout that we brewed for the wedding.
25 lb – 2-row
1 lb – Barley, Roasted
1 lb – Chocolate Malt (could be 50% light)
1 lb – Caramel/Crystal Malt (80L)
1 lb – Cara-pils
1 lb – Kiln Coffee Malt
Plus specialty grains (to total 16 with barley). These are not just going to be adjuncts – they will all be modified or lightly cooked* to help add additional sugars. The plan, is to use 1/2 lb of each (total 7.5 lbs).
Oats (rolled) – brew store
Wheat (malted) – brew store
Rye (malted or flaked) – brew store
Corn (flaked or popped) – brew store
Rice * – my cabinet
Wild Rice * – my cabinet
Tritical *-Â nuts.com
Buckwheat * – my cabinet
Quinoa * – health food store
Amaranth * – health food store
Millet * – nuts.com
Spelt * – nuts.com
Kamut * – nuts.com
Teff * – nuts.com
Sorghum * – nuts.com
The goal is to reach an OG of 1.131 – This much grain in my tun is bound to lower the efficiency. Up to 4 lbs of malt extract will be added later to reach this gravity. This is very common for an imperial.
Brew notes:
Shoot for higher mash 156ish and perhaps a decoction (to create some non-fermentables)
Need 75-100 IBUs (including late hops)
Fermentation Notes:
After boil, pull off 2-3 gallons in sterile canning jars. Add whatever malt extract is needed and some more nutrient.
Pitched on big yeast cake of "Pacman" At 60F.
Aerate 2-3 times as much as normal.
Add one of the canning jars every few days to feed to wort. Make sure to aerate the jar first.
When fermentation finally slows, rack and add a high gravity yeast:
4347Â  Eau de Vie, or WLP099 Super High Gravity Yeast
Batch store for 6 months to 1 year.
May need to back sweeten at end.
Inspiration:
http://beerdujour.com/Recipes/Jamil/JamilsRussianImperialStout.htm
http://ryanbrews.blogspot.com/2010/01/20-abv-imperial-stout.html
http://www.homebrewtalk.com/f12/old-rasputin-clone-wanted-31121/
Recipe:
May be changed Nagmay^ 16 Ton Imperial Stout^^58^47^6^60^9^4^60^100^8.8^0.3^0^0^0^0^70^70^25^9^9^1^40^40^1^35^35^1^22^22^1^41^41^1^66^66^7.5^56^56^0^0^0^8^2^60^1^2^8^2^30^1^2^5^2^5^1^2^0^0^0^0^1^0^0^0^0^1^0^0^0^0^1^0^63^156^0.7^1.131^1.026^^^^^^^^^^^^^^^^^^^^^^12.5^12.5^6.5^0^0^0^0.2^