Monday, May 28th, 2012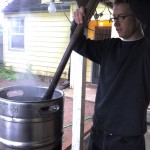 Our friend Joe has been really interested in brewing lately. In fact, he volunteered a bunch of time to help out during the Barrel Project brew day. We decided to get together and split a 12 gallon batch.
Just by chance, Cascade hops went on sale. I grabbed 2 lbs and we decided to brew a batch of the award winning, Cascadian Dark Ale:
Recipe
Black Frost – Cascadian Dark Ale
OG: 1.063, FG: 1.015, ABV: 6.5%, IBU: 58+ (Rager), SRM: 30+
Batch Size: 12.5 gal (for 10+ in the bottle)
Brewhouse Efficiency: 78%
Wort Boil Time: 75+ min
Grain
This is for 12.5gal
24# 2row
3# Caramel 60
.5# Chocolate
.5# Black Patent
.5# Roast Barley
The chocolate should be mixed with the light malt. However, the patent and roast need to be finely ground (think flour) and added to the top of the mash 30minutes in. This reduces the flavor but give maximum color.
Mash around 150F to ensure light body.
Water
To match Burton-on-Trent water water profile (starting with Portland water)
Add per 5 gallon of water pre-boil: (10 gal pre-boil are needed). This should help bring out the massive hop flavor.
3.5g Baking Soda
5g Chalk
8.5 Epsom Salts
15g Gypsum
Lots and lots of hops
75+ minute boil
0.5 oz Cascade 7.5%AA at 75m
1 oz Cascade at 30m
2.5 oz Cascade at 10m
3 oz Cascade at 0m
Wait ten minutes
3oz Cascade – hot whirlpool for 10 more minutes
4 oz Cascade dry hop dose 1 at ferment temps for 5 days
4 oz Cascade dry hop dose 2 at cold crash temps for 5 days
2 oz Cascade in the Randall?
Ferment
Added 1 quart of Pacman yeast slurry to each carboy (from the Rasputin Clone). Ferment took off like a rocket in under 6 hours.
Brew Day
The brewing went very well. Joe did a great job with the sparging and we reached 78% efficiency, even with a very full tun. Only a few notes:
Last time I started the mash hotter then expected (155). This time, we intentionally started a bit low (145) and then added hot water to hit exactly 150. Should be interesting to see if you can taste the difference.
The recipe was originally for a 12 gallon batch at 6.9%. We collected a bit too much water, so this ended up being a 12.5 gallon batch. This will bring the ABV down to 6.5% – works for me!
Data
Gabriel and Joe^Black Frost (Epic CDA)^^101^80^12.5^78^9^4^78^100^8.8^0.3^0^0^0^0^70^70^24^34^34^3^41^41^0.5^12^12^0.5^9^9^0.5^0^0^0^0^0^0^0^0^0^0^0^5^0.5^75^1^2^5^1^30^1^2^5^2.5^10^1^2^5^3^0^1^2^5^3^0^1^2^5^10^0^1^2^1^60^150^1.2^^^^The chocolate should be mixed with the light malt. However, the patent and roast need to be finely ground (think flour) and added to the top of the mash 30minutes in. This reduces the flavor but give maximum color. — Lots and lots of hops: 3oz Cascade at 0m Wait ten minutes 3oz Cascade – hot whirlpool for 10 more minutes 4oz Cascade dry hop dose 1 at ferment temps for 5 days 4oz Cascade dry hop dose 2 at cold crash temps for 5 days — Pacman (not listed) and start the ferment cool to 60ish, let it rise to 70F after a week and dryhop. Then cool back down and 2nd dryhop.^^^^^^^^^^^^^^^^^^^^8^8^8^8^8^8^0.2^