Thursday, September 4th, 2014
You may want to start by reading: Growing hops from seed, Hop Breeding (2014)
The seedling grew rapidly in their first year. 18 plants produced significant amount of hops by the end of August. For comparison purposes I decided to pick, sort, and catalog all the cones at once. No doubt this means that some were picked too early, and others too late. The wet/dry weight percentile should help to calculate an optimal picking time for each variety.
Keep in mind that these are young plants, many with seeded cones. This means that the cone size, shape, yield and bitterness is only an indication of what a mature plant might produce. This will help us decide which plants to cull and which to keep.
Note: You can click on each picture to see a version with the horizontal profile included.
NHB006
Cross: Magnum x Cascade (MxCas02)
Cone size: 1.47 – 2.1″
Yield: 11.8 (wet oz), 4.7 (dry oz)
Notes: Torpedo shaped cones.

Continue: Yes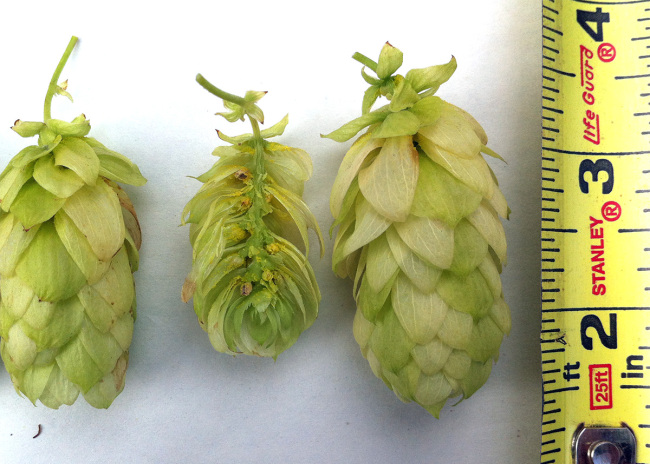 NHB010
Cross: Magnum x Cascade (MxCas06)
Cone size: 1.45 – 1.48″
Yield: 9.3 (wet oz), 3.5 (dry oz)
Notes: Cones are a very consistent size.

Continue: No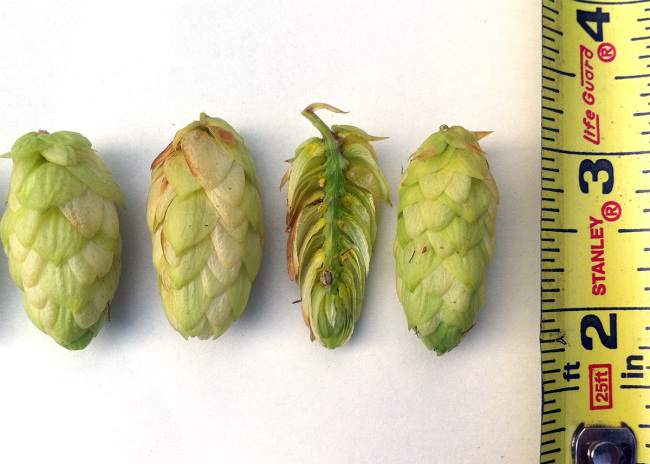 NHB011
Cross: Magnum x Cascade (MxCas07)
Cone size: 1.25 – 1.6″
Yield: 3.4 (wet oz), 1.1 (dry oz)
Continue: No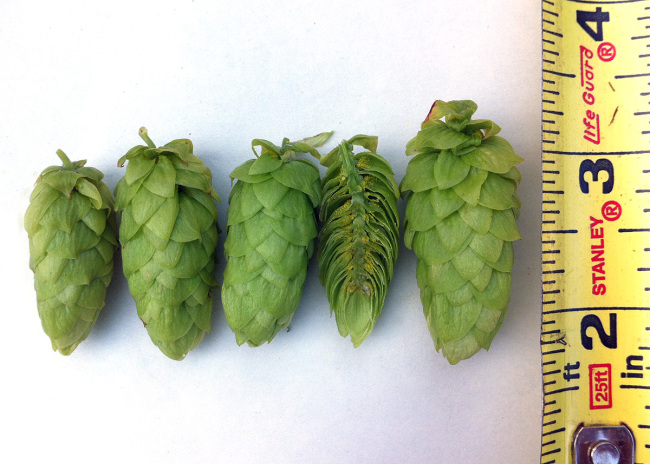 NHB012
Cross: Magnum x Cascade (MxCas08)
Cone size: 1.59 – 2.33″
Yield: 12.5 (wet oz), 4.9 (dry oz)
Continue: Yes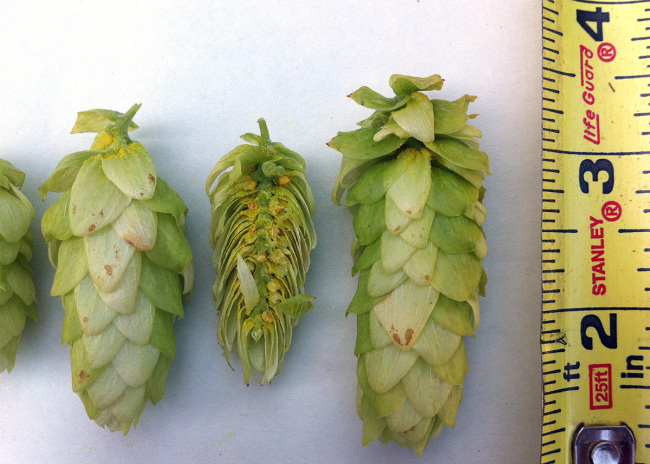 NHB013
Cross: Magnum x Cascade (MxCas09)
Cone size: 1.6 – 1.78″
Yield: 6.8 (wet oz), 2.5 (dry oz)
Continue: No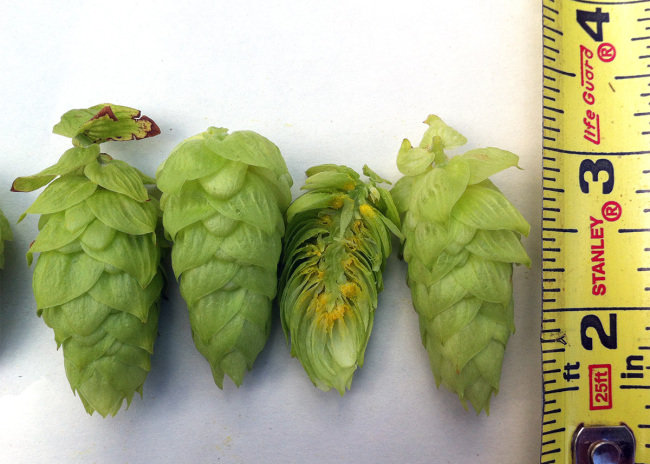 NHB014
Cross: Magnum x Cascade (MxCas10)
Cone size: 1.59 – 1.86 "
Yield: 7.2 (wet oz), 2.7 (dry oz)
Continue:

No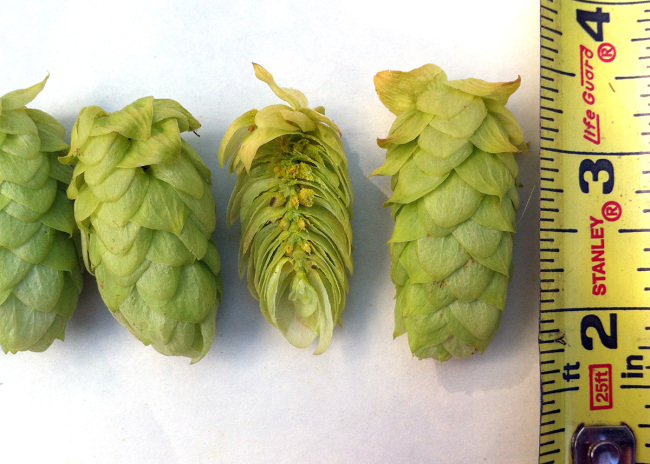 NHB015
Cross: Magnum x Cascade (MxCas11)
Cone size: 2.06 – 2.23″
Yield: 10.6 (wet oz), 3.3 (dry oz)
Continue: Yes

NHB016
Cross: Magnum x Cascade (MxCas12)
Cone size: 1.42 – 1.92″
Yield: 13.9 (wet oz), 4.4 (dry oz)
Continue: No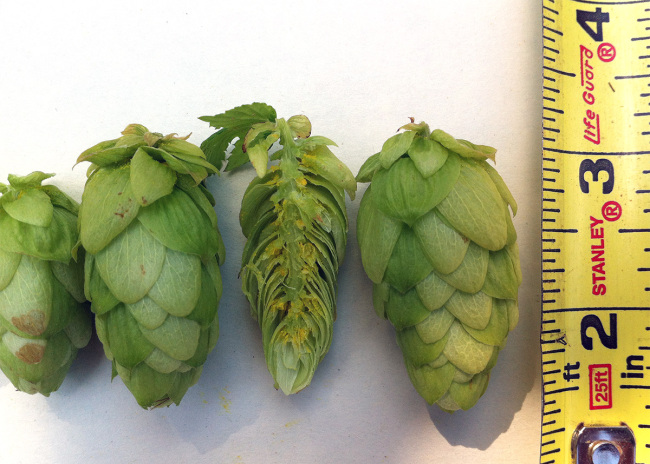 NHB018
Cross: Magnum x Cascade (MxCas14)
Cone size: 1.98 – 2.34″
Yield: 11.5 (wet oz), 4.3 (dry oz)
Continue: Yes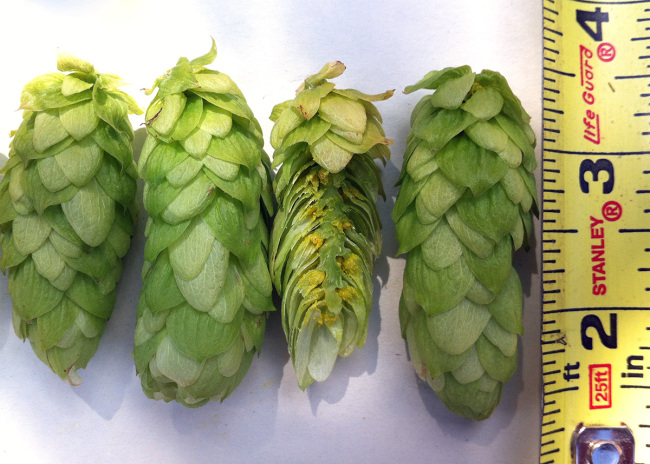 NHB019
Cross: Magnum x Chinook (MxChin01)
Cone size: 1.54 – 2.00″
Yield: 3.4 (wet oz), 1.0 (dry oz)
Notes: Threw male flowers near the end of the season.
Continue: No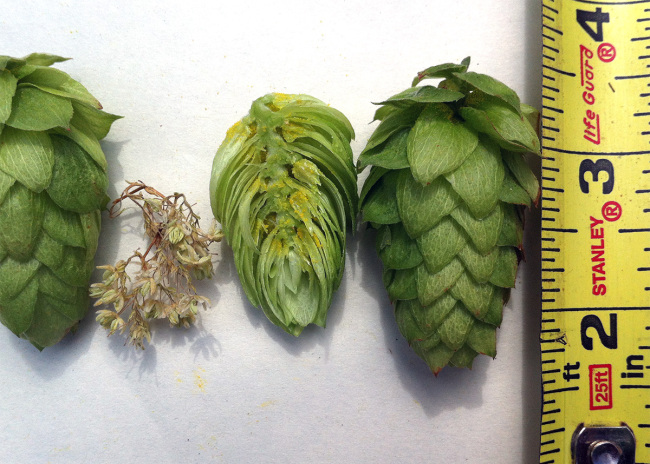 NHB020
Cross: Magnum x Chinook (MxChin02)
Cone size: 1.13 – 1.57″
Yield: 1.7 (wet oz), 0.5 (dry oz)
Continue: No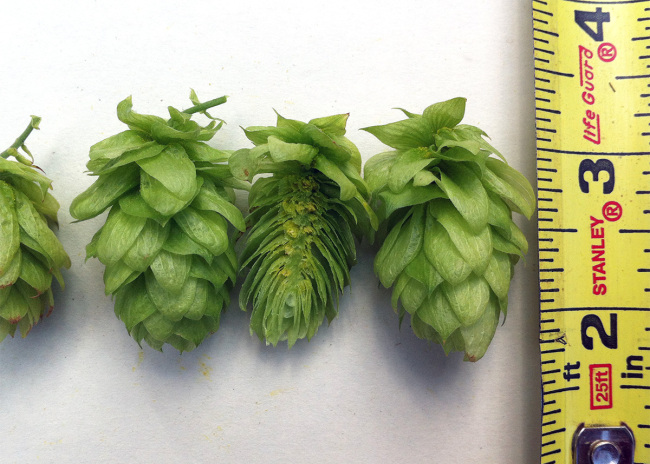 NHB021
Cross: Magnum x Chinook (MxChin03)
Cone size: 1.93 – 2.47″
Yield: 7.9 (wet oz), 2.1 (dry oz)
Continue: Yes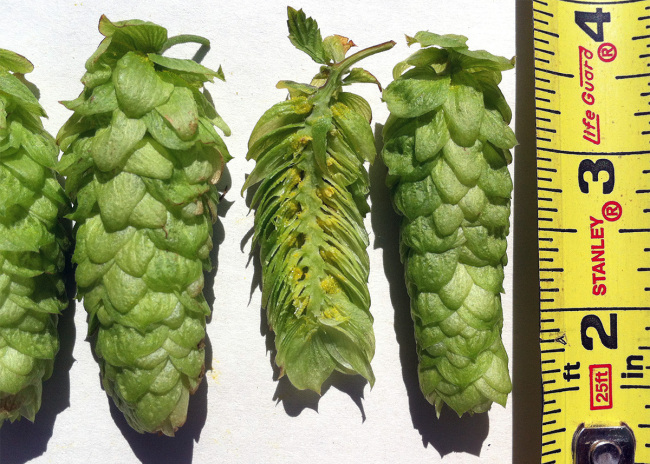 NHB022
Cross: Magnum x Chinook (MxChin04)
Cone size: 1.3 – 1.39″
Yield: 4.1 (wet oz), 1.0 (dry oz)
Continue: No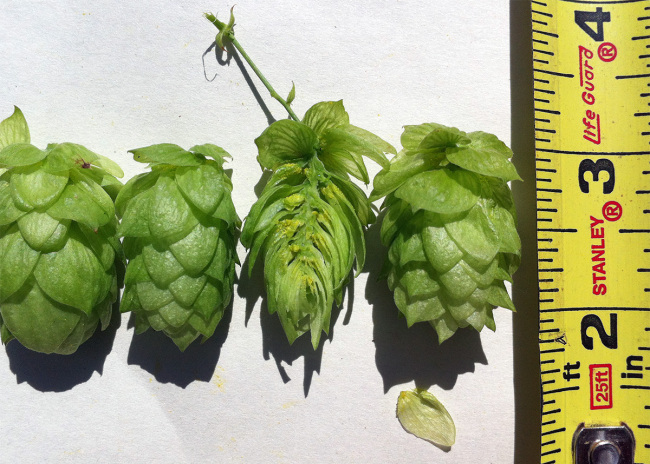 NHB023
Cross: Magnum x Chinook (MxChin05)
Cone size: 1.50 – 2.04″
Yield: 6.8 (wet oz), 1.9 (dry oz)
Continue: Yes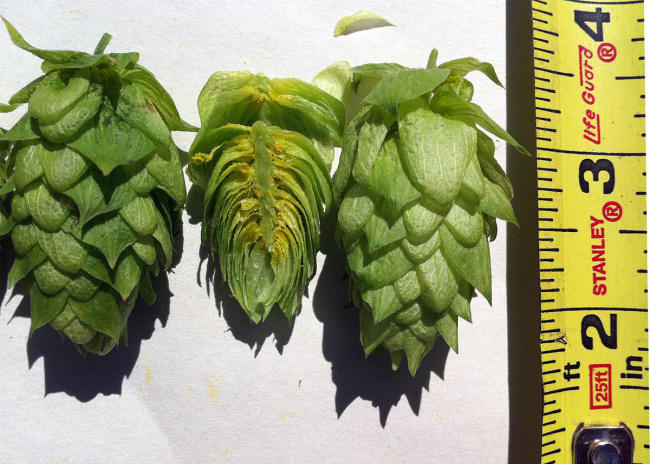 NHB024
Cross: Magnum x Chinook (MxChin06)
Cone size: 1.48 – 1.7″
Yield: 6.6 (wet oz), 1.7 (dry)
Continue: No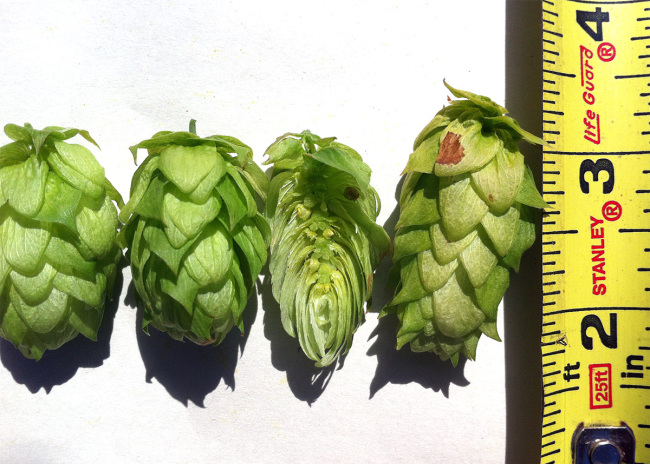 NHB025
Cross: Magnum x Chinook (MxChin07)
Cone size: 1.47 – 1.67″
Yield: 39.0 (wet oz), 10.1 (dry)
Continue: Yes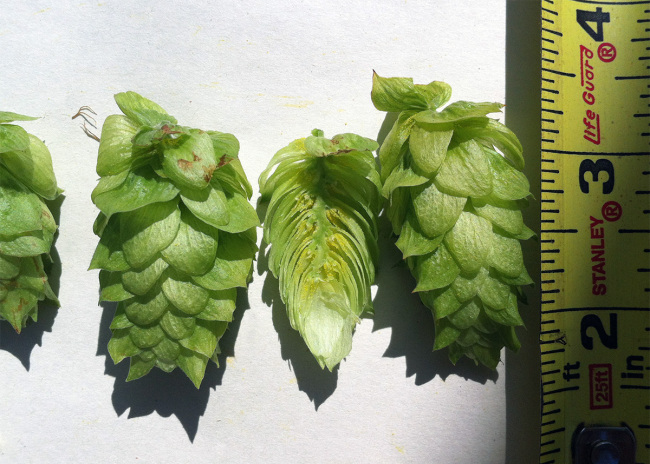 NHB027
Cross: Open Pollinated Cascade (OpxCas01)
Cone size: 1.67 – 1.99″
Yield: 15.9 (wet oz), 5.4 (dry oz)
Continue: Yes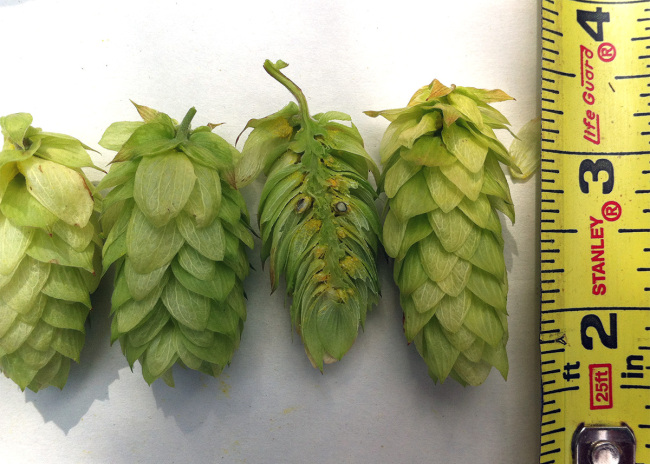 NHB028
Cross:Â Open Pollinated Cascade (OpxCas02)
Cone size: 0.85 – 0.92″
Yield: 0.4 (wet oz), 0.1 (dry)
Continue: No