Tuesday, March 12th, 2013
Note: this is from 2013. You might also be interested in the 2014 breeding, 2015 breeding…
---
Oregon is an optimal place to grow hops. They take up a lot of space, but are very gratifying and economical to grow. At the local homebrew store, hops will run $2-3 per ounce. Last year, with 7 mature plants, I ended netting about 10 lbs of dried hops.
Different varieties?
Some of the varieties in my yard are quite common: Sterling, Mt. Hood, Willamette, Cascade, Nugget, Chinook, Newport, Galena
Some are a little more rare: Pride of Ringwood (from Australia), Teamaker (super-low bitterness)
Interestingly, there are a limited number of varieties – less than 50 – that are available to the hobbyist grower. This is due to the fact that hops are traditionally grown from a rhizome (root) cutting. The propagation method means that my Cascade plant is genetically the same as your Cascade plant – they are essentially clones.
Since hops propagate so easily through cloning, the genetics have never been stabilized. They will not grow true from seed. If you were able to pollinate my Cascade plant, the offspring would not be Cascade. In fact, each seed would produce a slightly different plant. Growing a hop plant from seed would be a genetic lottery… Unfortunately, it's difficult to play this lottery: Hop pollen and male plants are not readily available.
Obtaining seeds
You cannot get seeds from known varieties. You can get seeds for ornamental hops online – but, I was interested in starting with something a little more genetically interesting.
Thanks to friends and acquaintances online, I was able to score seeds from several wild plants growing around North America. These plants were either:
Escaped from commercial growing operations (life finds a way :)
Or, native/wild to this continent: Humulus lupulus neomexicanus
These particular seeds were sourced from: Wyoming, Colorado and Saskatchewan, Canada.
Sprouting the seeds
Hop seeds proved more difficult to sprout than I expected. They require a cold stratification period of dormancy, Here are some basic steps that I followed:
Soak the seeds in a slight bleach solution to sterilize the surface.
Place the seeds ziplock with a barely wet (wrung out) paper towel.
Store at 40F in the fridge for a month.
After a month, move the seeds to a +70F area.
As they individually sprout, move the seeds to soil
At this point only a few of the seeds have sprouted. If, after a few weeks, there is no sign of further activity, I plan to repeat steps 2-4.
Propagation activity log
2013-02-01: Began cold stratification 40F
2013-03-01: Moved to 70F

Sprouts: Wyoming 001, 002

2013-03-20: Alternative method. Seeds soaked for 48hours @Â  40F, then seed coat removed
2013-03-25: Seed coats removed from original, stratified seeds:

Sprouts:Â  Colorado 001, 002
| ID | Seed | Sprout | 1st true leaves | 2nd leaves | Potted | Sex? |
| --- | --- | --- | --- | --- | --- | --- |
| NHB001 | Wyoming 001 | 2013-03-02 | 2013-03-10 | 2013-03-20 | 2013-03-25 | Male |
| NHB002 | Wyoming 002 | 2013-03-11 | 2013-03-19 | 2013-04-01 | 2013-04-05 | Male |
| NHB003 | Colorado 001 | 2013-03-30 | 2013-04-05 | 2013-04-14 | 2013-05-01 | Female |
| NHB004 | Colorado 002 | 2013-03-31 | 2013-04-07 | 2013-04-20 | 2013-05-01 | ? |
Update 2013-05-30:
Only three of the starts are thriving.
The Colorado is still in the greenhouse, but is about ready to pot up and move outside.
Both of the Wyoming are in large pots outside. One is over 5′ tall and putting out laterals.
There also seem to be small, male flower buds forming on the Wyoming 001 – We may have a boy!

Update 2013-09-25:
The three pants grew well throughout the season. Unfortunatly, the male flowers we spotted never matured. However, the Colorado developed dozens of nice cones: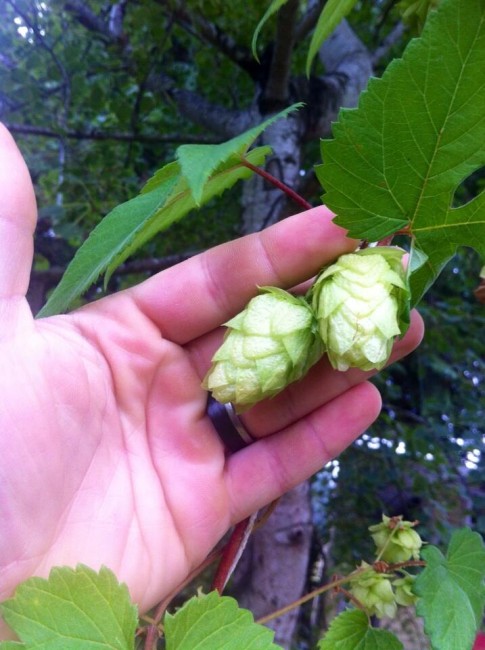 Update 2014-06-04:
This spring all three plants were moved to the hop yard that we set up for the new seedlings. Of course, these ones are a year ahead and have really taken off. No cones yet, but the different morphology of the leaves is striking.
On the left is Colorado 001. On the right is Wyoming 001.