Monday, October 13th, 2014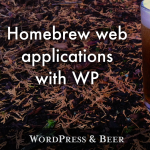 WordPress is an incredible platform for building full-featured, customized web applications. Every beer on the planet is made from the same four ingredients: hops, water, barley and yeast. Similarly, WordPress is built around a small feature set (posts, pages, media and tags), but from these you can build anything from a single blog to a major news network.
We'll look at how to take it a step further – adding and removing features to create web applications that act in entirely new and surprising ways. In this 45-minute session we will to look at the similarities between everyone's favorite blogging platform and everyone's favorite alcoholic beverage. Together, we'll explore what makes these items so versatile and extendable. Using examples, Nagmay hopes to show how WP can help you create web applications better and faster than traditional platforms.
HighEdWeb 2014 presentation:
#DPA1 Development, Programming and Architecture
The slides:
Examples and code to get you started:
More Resources: