Wednesday, February 24th, 2016
You may want to start by reading: Growing hops from seed, Hop Breeding (2014), Breeding results 2014, Hop Breeding (2015)
Overview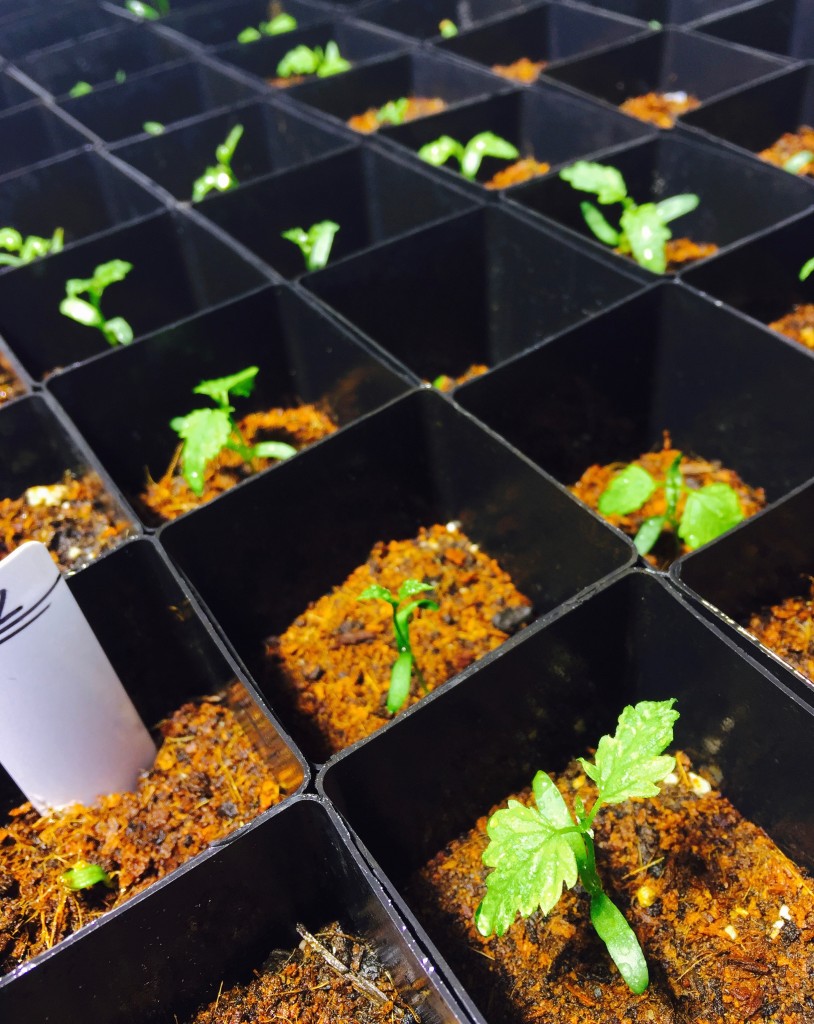 The three hop yards are full with 2nd, and 3rd year selections. With this in mind, I planned to focus germination on a limited set of seeds to fill in any open spots. This includes:
NHB002 (EV02) x Cascade

NHB002 (EV02) x Galena


NHB005

(MxCas01) x Nugget
NHB017 (MxCas13) x NHB032 (MxCas18)
"Midwest" (open pollinated seed from a grower in – you guessed it – the Midwest US)
However, the germination rates this year were off the chart. There are now over 300 healthy sprouts… Many of these sprouted in the fridge in late February. They are now all greening up and developing true leaves.
03-02
The hops continue to sprout. Each day, I find a few more. Many of the early ones are working on a second set of true leaves. This means that their growth rate is about to explode – and – I will need to determine a place to plant them sooner than later.
06-14
It's already a jungle already, but that was to be expected. We're going with a "plant them all and let Darwin sort it out" mantra for these ones.
We went with bird netting as a trellis.
07-16
These were all seeds a few months ago – and – only about a foot tall back in June. They've all now topped the 16′ trellis! The bird netting seems to have worked wonderfully. Though, I doubt that I'll be able to remove the bines and reuse it next season, which is a shame.
I also spotted a few males. They were bagged, but I suspect it is too late. Looks like I am going to have a 4th generation of seeds to germinate next spring!
08-01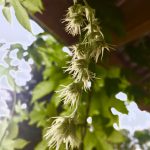 Pulled some of the flowers from the MxCas x MxCas (should that be MxCas(F2) ? ) to collect the pollen. This will be used to pollinate the Newport and Sorachi Ace in the Sy yard.
The ace had nice burs, so I wrapped the ziploc bag around a branch and gave it a good shake to induce pollination. This was repeated for most of the branches.
The newport is not quite ready, but will be pollinated soon.
Data
NHB = Nagmay Hop Breeding. 001-004 are from 2013, 005-046 are from 2014, 47-129 are from 2015.